Itinerary 1: the Cyclades from Paros
Departure every Saturday from Paros, the '100 Landscape Island' and home of Archipel Club. Duration: 1 or 2 weeks cruise.
One may join the cruise at any convenient harbour. Although, when planning, prevailing winds have been taken in account, exceptional weather conditions may force us to alter intermediate stop overs, for your safety and sailing comfort. Departure and arrival port remain however unchanged. Further more, we guarantee you the visit of an island every day.
International airports are marked by °, domestic airfields by *.
First week : Paros* - Syros* - Mykonos° - Dhonousa - Amorgos - Ios - Santorini°
Second week : Santorini° - Polyaigos - Spetsai - Poros - Kythnos - Grammata - Paros*

SAVE $$$
IN GREECE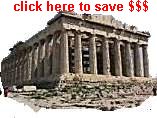 Visit the New
Globe Merchant Search Engine
to find

GREAT SAVINGS
on

HOTELS & FLIGHTS
click here
Click GO to Find
the BEST AIRFARES!