Captains Biography
DR Yachting manager, and occasional skipper, captain Antonis was born in 1962, and began his love with the sea at an early age. He often would watch the fisherman leave on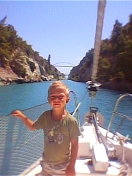 their daily trips.
He started his sailing practice at an early age, in the "flying Dutchman" class, at the Piraeus Sailing club in 1976. He then continued sailing around the Greek Aegean and Ionian Sea, with open seas boats, and participated in many regattas, for more than 10 years.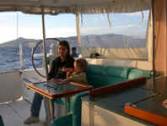 He is married, he has one precious daughter and four boys, he is an animal lover, dogs are his best friends, he is graduated from the University of Economics of Athens, he used to teach classic guitar, now he only plays on the occasions, when the mood is right ...

His professional sailing experience in the Aegean and Ionian Islands, since 1989, is second to none.
He speaks fluent English and French, and native in Greek.
He believes his clients are the most important asset. He always shows them the best Greek islands experience possible.

The Captains Thoughts...
"... Try to enjoy the moment, like there is no tomorrow, without regretting of what you did, if it is not the last thing you do..."