THE ADRIATIC ODYSSEY 2017
CROATIA - GREECE -MONTENEGRO -ALBANIA
Aboard the 24-cabin M/S PANORAMA
JUNE -SEPTEMBER 2017 | 8-day cruises
Sundays - From Dubrovnik, Croatia
A cruise voyage unraveling the medieval treasures of Dubrovnik and Korcula island in Croatia, the picturesque Bay of Kotor and Bar and Budva in Montenegro, the Roman-Hellenistic heritage of Saranda and UNESCO Butrint in Albania. Corfu, the queen of the Ionian Greek isles and unhurried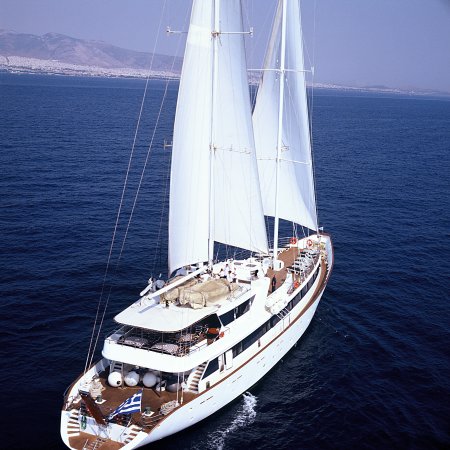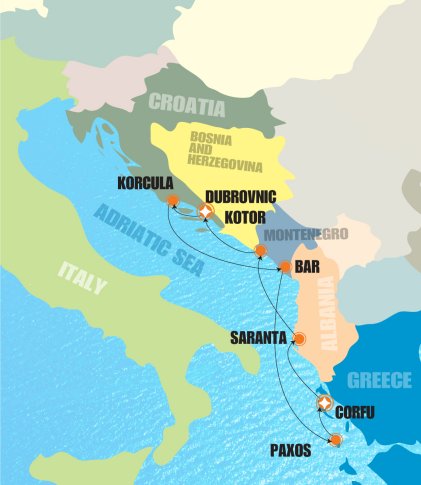 Variety Cruises in the Adriatic
Experience a harmonious balance between conventional cruising and private yachting, along with an exciting voyage of discovery, unravelling the wonders of the Ionian and of the Adriatic Sea. Discover the natural and historical treasures of the Ionian, of Croatia, Albania and Montenegro. Each day you will discover a new port of call, a hidden cove with crystal blue waters to cool you, a glimpse of ancient history to amaze you and rich cultural diversity to intrigue you.
THE PANORAMA
MOTOR SAILER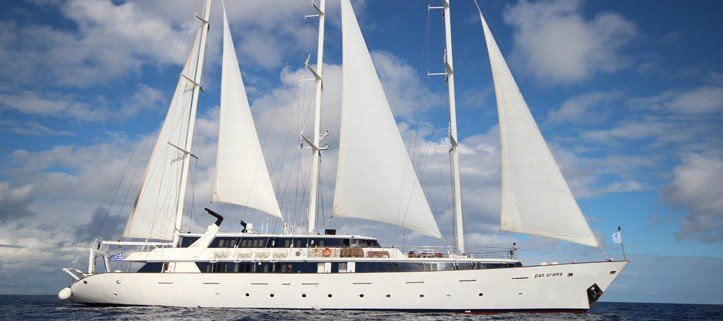 The M/S PANORAMA is a meter/24 cabin elegant motor sailer accommodating just 49 passengers in 24 outside cabins.
GENERAL INFORMATION:
Length: 54 m
Launched: 1993 |Last Renovated: 2014
Cabins: 24
Capacity: 49 passengers
Crew: 16-18
The M/S PANORAMA is a 54 meter/24 cabin elegant motor sailer that was launched in 1993 and was renovated in 2001, 2008 and 2014. This state of the art sail cruiser has performed several Atlantic Ocean crossings, has sailed from the Seychelles to Monte Carlo and from the Black Sea to Cuba and offers the highest standard of accommodation, comfort and safety. The vessel complies with the most stringent SOLAS safety regulations.

Service on board is provided by your Captain, the Cruise Coordinator and your experienced Marine and Hotel crew members. Service will be attentive or unobtrusive according to your preference and priority is always given to the safety and comfort of passengers. Organized excursions are available for most ports of call and can be pre-booked or reserved 24 hours More info on M/S Panaroma
The Adriatic Odyssey
Dubrovnik to Dubrovnik - on Sundays

DAY

PORT

COUNTRY

PROGRAM-EXCURSIONS

Sunday

DUBROVNIK

Croatia

Embarkation betweem 3 pm and 4 pm. Welcome dinner - Overnight in port.

Monday

DUBROVNIK- KORCULA ISLAND

Croatia

Early in the morning sailing to Korcula, Croatia. Enjoy a refreshing morning swim stop near Korcula * before arriving at Korcula port in the afternoon. Afternoon optional excursion in Korcula Town or in Korcula Town and to LUMBARDA Village for wine tasting. Overnight at sea to Bar, Montenegro

Tuesday

BAR (FOR BUDVA)

Montenegro

Enjoy a morning swim stop * - Midday arrival at Bar, a small coastal town of Montenegro. Afternoon optional sightseeing excursion to Old Budva and to Cetinje, a museum town. Explore Budva's vast cultural heritage and Venetian architecture. Overnight at sea to Paxi, Greece
Wednesday

PAXI

Greece

Short stop in Corfu for clearance and continue to Paxos. Sail into a nearby bay for a refreshing swim stop and a BBQ lunch on board. This afternoon arrive in the unique port of Paxos. Overnight in port.
Thursday

PAXI -CORFU

Greece

Early morning sailing to Corfu, the Grand Lady of the Ionian Islands and the greenest island in Greece. All day optional excursions to explore Corfu's imperial past, the impressive historic centre declared UNESCO World Heritage site and the byzantine churches, or to take a scenic tour through the lush Corfiot countryside and old high hill villages. Overnight in port.
Friday

CORFU SARANDA

Greece
Albania

Early morning sailing to the charming town of Saranda, boasting the most attractive waterfront on the Albanian Riviera. Join the optional excursion to the nearby archaeological site of Butrint. Afternoon sailing to Kotor, Montenegro. Overnight at sea.

Saturday

KOTOR

Montenegro

Early morning navigation in the Bay of Kotor, the deepest natural fjord in the Mediterranean. Take a refreshing swim in the bay or join the optional excursion to the well-preserved, fortified medieval Old Town. Overnight in port.

Sunday

KOTOR
DUBROVNIK


Montenegro
Croatia

Excursion - Afternoon sailing to Paxos ( with quick stop in Corfu for entry formalities)
Itineraries can be changed at the discretion of Variety Cruises and of the Vessel's Captain in case of adverse weather conditions - winds of 6/7 beaufort or more depending on the vessel- on port authorities not allowing a vessel to leave port or in case of other extraordinary conditions. Such itinerary changes do not entitle automatically passengers to any refunds but Variety Cruises guarantees that passengers are disembarked at the advertised port of disembarkation on time for their flights.
* SWIM STOPS IN CROATIA & MONTENEGRO ARE SUBJECT TO LOCAL AUTHORITIES PERMITION


Adriatic Odyssey Cruises and Rates 2017
S/C Panorama
View Images
From Dubrovnik, Croatia on Sundays
June 11, 25
July 2, 16, 23, 30
August 13, 20
September 3, 17, 24
Cabin Category
Description of Cabins

Rates in USD

Rates per person in DBL/TWIN
Rates in SINGLE

C

Lower Deck - Twin or Double beded Cabins
$2350
$3,525

B

Main Deck - Twin beded Cabins
$2650
$3,975

A

Main Deck - Twin beded Cabin
$3390
$5,932.50

3rd Person

Valid for Category B only- Reduction
$1855
Children 7-10 years old in triple cabin w/2 adults in Cat B
$1,325
Children 10-16 years old in triple cabin w/2 adults in Cat B
$1,722.5

Port Charges

350
A/ Cruise fares are per person and week and include
-- Accommodation in double or twin cabins with private SH/WC & air conditioning.
-- Full-board: Buffet breakfast and two meals daily, including a Welcome Cocktail, a local themed Evening, fun BBQ, weather permitting) and Captain's Dinner.
-- Regular (filter) coffee, tea and drinking water free all day.
-- Use of fishing and snorkelling equipment (subject to availability).
-- English-Speaking Cruise Escort.
Not included:
-- Beverages (except those mentioned above).
-- Shore excursions on the islands or other land arrangements.
-- Crew tips.
-- Passenger personal expenses
-- Wi-Fi (available at charge)
B/ Conditions and restrictions

PAYMENT
25% deposit is required 7 days from confirmation.
75% Balance of payment no less than 60 days prior to day of embarkation.

CANCELLATIONS
Up to 120 days from embarkation € 100-cancellation fees
119 to 90 days from embarkation 15% of the cruise fare
89 to 60 days from embarkation 25% of the cruise fare
59 to 30 days from embarkation 50% of the cruise fare
29 to 00 days from embarkation 100% of the cruise fare
Cancellations must be confirmed by VARIETY CRUISES in writing in all cases.

AMENDMENTS
There may be a charge for amendments of cruise date or decreasing pax number received less than 60 days prior to sailing. Amendments must be confirmed by VARIETY CRUISES in writing.

NOT INCLUDED IN CRUISE FARE
Such personal expenses as drinks (other than included in the rate), laundry, spa-where applicable-, boutique items and gratuities, (gratuities are optional but as a rule, satisfied clients are expected to give to the captain, at the end of the cruise, approximately Euro 10.00-12.00 p/p p/day for distribution among all crew members) medical expenses, port taxes, shore excursions (shore excursions are proposed and arranged on board by the tour leaders), use of the on board Wi-Fi (available at a charge), expenditures incurred ashore, and anything not mentioned in cruise program.