Captain: Konstantinos Ntitsiopoulos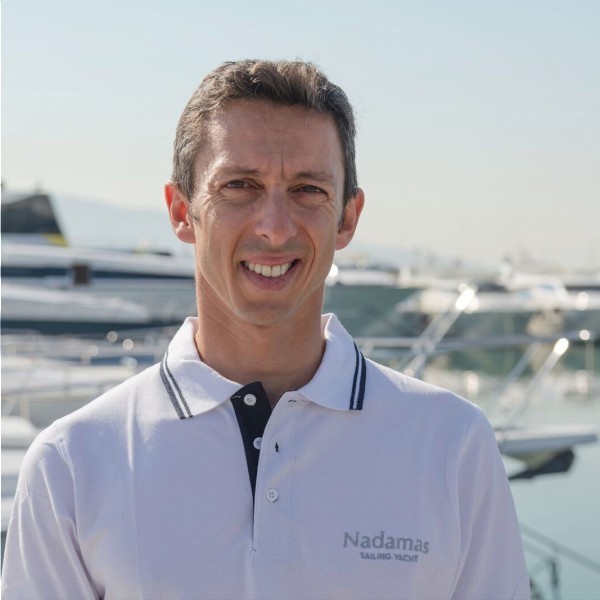 Konstantinos Ntitsiopoulos was born in 1983. He grew up in Katerini where he completed his basic education. In 2001, he succeeded in the Panhellenic exams and was admitted at the Department of Physical Education and Sports Science of AUTH. He graduated in 2006, with specialty in sailing, and in the same year he entered the Department of Physical Therapy of Alexandreio Technological Educational Institute of Thessaloniki where he graduated in 2010 with Honors. Sailing has been his passion since he was a young athlete. He started with dinghy sailing in 1992-optimist class and he continued with 420, 470. He has participated in many sailing regattas and holds a lot of gold medals in National Championships. He was a member of the National Team of Sailing in 1998 and 2003- 2004. His most important award was the bronze medal in European Championship-470 class.Offshore sailing was the next step. He has been working as a skipper and offshore sailing instructor since 2006. He has sailed over 10000 nm (2500 at night). During the year, he spends three months skippering, six teaching sailing and the rest of the year he handles boat maintenance. Konstantinos is sociable and likes to live on board with people who are on vacation. His intention is to make the passengers feel safe, have fun and travel with them to the best sailing destinations. He is eager to teach people how to sail. He is a fluent speaker of the English language. In his free time, he likes reading, running and trekking.
Cook/Hostess: Liubov Velyehko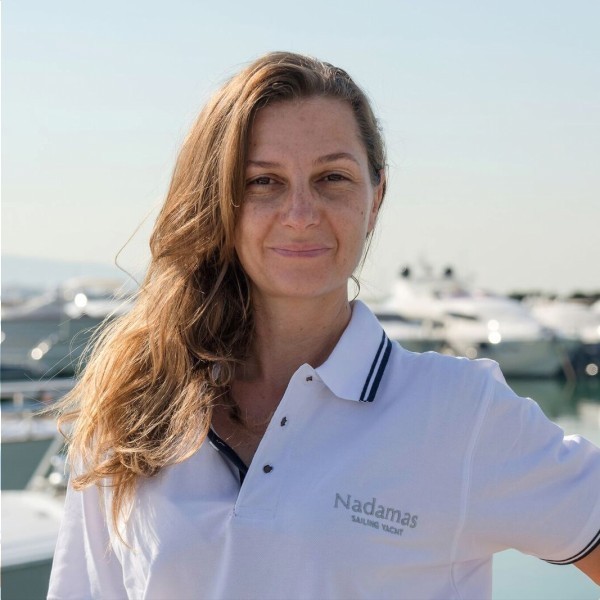 A charming stewardess came from Ukraine and fell in love with Greece with its beautiful sea, generous people and delicious food.
She started her career in the field of hospitality as a waitress of the best Kiev restaurant "Le Grand Café" where she followed the training course of the famous European training center CEFPPA which specializes in the development of the hotel and catering industry. Working there she acquired much knowledge of French cuisine and its special way of presentation. She was also responsible for conducting banquets for foreign Embassies and catering for different companies in Kiev. She brought her previous knowledge and experience to sunny Greece in 2005 and for ten summers she worked as a crew member of the private yacht Polytropon providing excellent service, which helped her to create her own delightful style of serving, people-caring and time-scheduling on board. A passion to everything healthy and tasty made her learn cooking and create her balanced menu for the customers, which is a combination of Greek, French and Ukrainian dishes presented at their best. Besides, Liubov is a well-educated person, who speaks fluent English, Russian, and Ukrainian and is studying Greek. She is computer-literate and very good in design. She has made some artistic video presentations about travelling on board around the Greek islands, filled with romantic music, displays of tasty food and beautiful scenes of summer adventures. Also Liubov has a good sense of humour and easily cooperates in assisting with any skipper or crew member. Her hobbies are dancing, drawing, flower planting, fitness, ecology, healthy food, spa and new technologies. Staying on board is really pleasant and unforgettable as she efficiently creates the atmosphere of a Greek summer vacation.