The Blue Cup-The Annual Passage Race in Greece, for Beneteau Yachts!
Since it was established in 1991 from Vernicos Yachts, this exciting annual passage race has grown into an international event attracting entries from all over the world.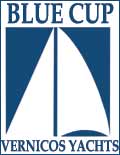 The Blue Cup race takes place in Greece, in the Argosaronic Gulf, every year during the first week of November.
Approximately fifty Beneteau yachts from the Vernicos Yachts fleet, with crews from many different countries participate every year in the Blue Cup Regatta.
The ever-growing spirit of the Blue Cup race is the mixture of competition and sportsmanship with cocktails, dancing and partying at every port of call. Every island visited has a special welcome for the participants with receptions, parties and prizes for each day's racing. The highlight is the Grand Prize-Giving Ceremony, with dinner and dancing at the last port of call, Porto Heli.
The next Blue Cup, the 16th Blue Cup will take place from October 29th 2006 to November 6th 2006.
There is nothing like the Blue Cup. It could change your view of yacht racing forever! So come and join us!!!

We welcome you to the Cyclades Blue Cup Regatta.
Cyclades Blue Cup Regatta, takes place in Cyclades group of islands.
The next Cyclades Blue Cup Regatta will take place between 5th and 12th of May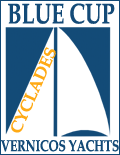 2007.
Please refer to the :
Race schedule and types of yachts participating in the race together with
Pricelist: Please find here 2007 prices.
Looking forward to welcoming you in the 5th Cyclades Blue Cup, which will share the same fun with the Blue Cup, in a different sailing surrounding and sailing conditions.
For relevant information email Globe Merchant Yacht Charters.: