The Captain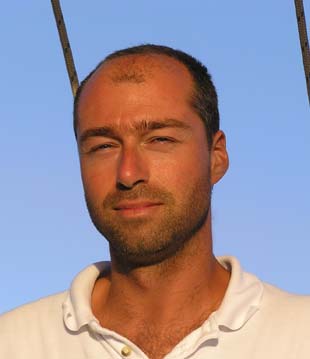 Thanos is a very experienced sailor, licensed to command Sailing Vessels of up to 200 tones. He is holding the Yachtmaster Offshore license issued by the UK Department of Transport and endorsed to be used on charter vessels.
With 20 years sailing experience and thousands of sea miles covered, he has worked as a captain on charter and private yachts in England, Greece, France and Spain.
Additionally, he has done yacht deliveries across the Atlantic, the Caribbean, around Europe and through the Med.
Having worked extensively on charter yachts, he knows very well the qualities of a good captain and host (and that is not just navigating and sailing the boat, as anyone with a bit of theoretical knowledge can do that!).

A very easy-going person, he will adapt the cruise to your own needs and make sure everybody is happy. His good knowledge of the area is very useful, as he will show you the best tavernas and bars as well as the sites of interest.
In general, he is there to take care of everything and make sure you have a great time.
Thanos was born in Greece in 1974, but lived mostly in England for 10 years, until 2004 when he started organizing these cruises in the Greek islands with S/Y 'Alexandros'. Although he studied Civil Engineering, he decided to follow the skipper's career, as the sea has always been his great love.
When in England, he was based in Plymouth but he spent a lot of time working around Europe on yachts, and having lived in various countries he speaks very fluent English, Greek, French and a bit of Spanish.
He is a commercial SCUBA Diver HSE PART IV, as well as a PADI Rescue Diver, and if you are interested he can organize a bit of SCUBA diving for you.
As safety is an important issue in this job, Thanos has been trained in First Aid and specialized in sailing and diving related accidents, as well as Fire Fighting & Sea Survival.
Finally, as an RYA Sailing and Powerboating Instructor he can teach you the art of sailing during your holiday.
The Hostess/Chef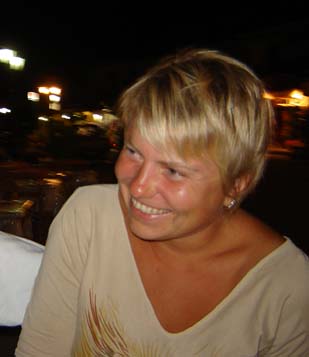 Alicia has a great love for the sea and sailing and having worked in the tourism industry for many years, she knows exactly what our guests need on their holiday. She is there to make you feel relaxed and comfortable and take care of all those little things that you want to forget about, during your vacation.
<![if !supportEmptyParas]> She speaks very fluent English, French, Polish and her Greek has improved a lot during the last few years, and with her easy going and friendly personality will make you feel at home straight away.
What's more, she is an excellent cook who will prepare your breakfast and lunch every day, and for those who would like to have their dinner onboard as well, she will cook some delicious dishes!
She is also a qualified skipper (holding the RYA Dayskipper certificate), with great sailing experience and could take over the command of the yacht if she had to.
Alicia was born in Poland in 1979 and as a licensed horse-riding instructor she has been taking people Pony-trekking in the Polish mountains for many years. Although she graduated from university with a degree in French Literature, her love for traveling and the outdoors and her dream to work on sailing yachts has taken her to Greece onboard S/Y "Alexandros".
Before 2005 when she joined Thanos organizing these cruises on S/Y 'Alexandros', she spent a few years living and working both in France and the UK, spent a few summers grape picking at Beaujolais and 2 years working as an au-pair with a family in Scotland. She is great with kids, as she has been looking after three of them ranging from a baby to a 13 year old.

With her gourmet dishes she has turned lunchtime into one of the best moments of the day, and with her skills, nice character and her great smile, Alicia will help make your holiday an unforgettable one.