Peloponnese (north east)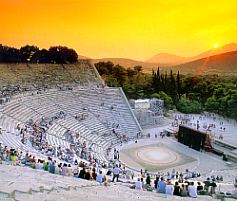 The ancient theatre at Epidaurus, with its' 15.000 seats is one of the most important monuments in Greece. Yet, it is still in use!!!
If during your staying in Greece it happens and there is a performance there, is a must you cannot afford to lose.
The volcanic peninsula of Methana extends into the Saronic Gulf a short distance from Poros and connects with the Peloponnese through a narrow isthmus. Methana spas, famous since antiquity, receive hundreds of visitors every year.

The houses of the city extend along the beach and climbing up the hill. At the quay lie the tourist shops, seafood tavernas and confectionery shops with their famous almond cakes and milk pies. Charming Nisaki (little island), joined with Methana through a narrow strip of land, constitutes the anchorage of the city. Nisaki is the Methaneans promenade for their strolls, with rich vegetation, flowers and stone-paved alleys all the way to the cafeteria that overlooks the beach on the other side of the narrow strip.
Hermioni is a quaint little Greek village. Being on a little bit of land jutting into the sea it is only 4 blocks wide at the largest part and about a mile to a mile and a half long. The lack of any thing resembling a sandy beach has saved it from the mass impact of tourism but that doesn't mean there is not great swimming there, or tourists. The swimming is great and there is a night life in this little town.