Spetses,
It is the last of the Saronic Gulf islands, 53 nautical miles from Piraeus, with a great history and the privilege of National recognition for its vital role during the Greek revolution against the Ottoman Empire.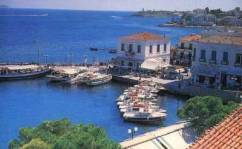 There are a lot of remarkable historic sites, which are maintained with love and care.
The Museum of Spetses situated at the mansion of Hatziyiannis Mexis (one of the wealthiest leading activist of that era), the main mansion of Laskarina Bouboulina that now is a private museum, and the historical monastery of St. Nicolas.
Traditional sites missing from other parts of Greece, decorate the village of Spetses. The famous ship yards with their wooden keels, the mansions of the great captains and admirals from the last century with their own characteristic architecture, the churches in the neighborhoods, built after the Byzantine Empire, the horse and the buggies.