Poros covers a distance of 31,3 sq. Km. from Piraeus, and population of 4,000 people.
The town is built on two rocky hills of a triangular islet that is called Spheria
and it has been characterized as a scheduled settlement.
The houses, without any specific architectural plan, are built one next to the other.
Poros is a traditional holiday resort for the Athenians. It's touristy industry is well developed and you will find all shorts of the related shops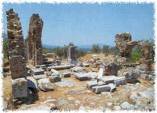 Temple of Poseidon: The ancient ruins of the Temple of Poseidon are to found 5 km from the main town, on the road to the monastery of Zoodochos Pighis. The temple was built in the 6th century B.C. According to legend, this is where Demosthenes drank the "konio" poison in 322 B.C. and died.
The Monastery: The history of the Monastery reaches back to the beginning of the 18th century, when a bishop from Athens, Iakovos II, was cured by drinking water from a spring at Poros