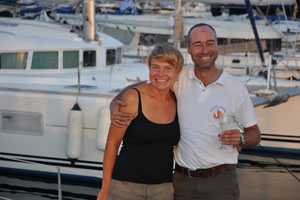 A berth in an en suite double / twin cabin

The captain & the hostess / cook

Bed linen, pillow and one set of bathroom towels per person (body towel and face/hand towel)

Access to the bar with free beer, wine and ouzo
(Guests are welcome to help themselves with drinks anytime, but while sailing or swimming they are not allowed to be drunk for safety reasons as well as for the well-being of their fellow passengers. The captain has the final word on the amount of alcohol that may be consumed onboard the yacht.)

CD player & Radio with speakers inside and on deck, DVD player and a big selection of music and movies

Equipment to access the INTERNET
(however you will be charged while connected to the internet as this is done through a mobile phone)

All mooring fees in marinas

VAT and Greek Taxes

Fuel and running water

All other running costs of the yacht

Yacht insurance against damage to the boat or third parties according to the European
legislation for charter vessels

All equipment of the yacht including the dinghy and its outboard engine

Breakfast, which consists of freshly baked bread, butter, homemade jam, honey, coffee, tea, milk and cereal, orange juice, fresh local fruit and yogurt

Lunch, which consists of Greek dishes, salads (vegetable or pasta), mezes (which is the traditional Greek tapas like tzatziki, humus, etc.) and fresh fruit

Bottled drinking water and non alcoholic drinks (orange. lemon, soda, coca cola, etc.)

On both yachts, 3 hours of air-conditioning per night which is enough for a good night's sleep, as the yacht stays cool for the rest of the night. On Velos, 3 more hours are included in the afternoon. If you would like to use the air-conditioning for longer, then any additional hours are charged at 6 Euro per hour on both yachts (which is the running costs of the generator) - on 'share a yacht' cruises, that is split between all the guests who want the air-conditioning on.

The idea is that you don't have any additional expenses at all related to your cruise, except for your dinners!

Click here for a list of What is not included in the price