Corfu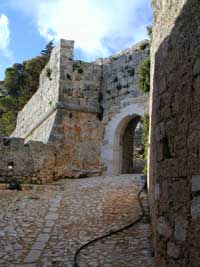 It is an amazing island and the first one that started receiving tourists more than 30 years ago.
Luckily however, it has not been affected much by tourism and has preserved its local color and atmosphere while the tourist resorts are usually isolated and out of the way.
It is a gorgeous island and offers a great variety with green mountains, valleys, rivers, forests, vineyards and various archaeological sites.
The old town of Corfu squeezed between its old and new fortress, remains like it was 200 years ago and when you walk around you feel you have gone back in time!
The capital, Kerkira, is one of the most cosmopolitan towns, with magnificent buildings and a fantastic architecture, influenced a lot from the period when the island was occupied by Venice.
It is famous for its nightlife with plenty of pubs, cafés, bars and clubs to satisfy every taste.
There are various pretty bays and long sandy beaches all around the island, and the best way to access them is by yacht.
The mainland of Greece is just a couple of miles away with some nice little villages and the tiny islands at the North-West of Corfu are worth a visit as well.
If you decide to start your cruise from Corfu, then the yacht will be moored a few miles from Kerkira, at Gouvia marina which is just a short drive from the airport.

With its beautiful scenery and views across the sea to mainland Greece it will quickly put you into your holiday mood.
You will soon familiarize yourself with the boat and then have a chance to go for a stroll to the shops that are situated around the marina.
Click below to read more about any of these islands:
Corfu
Paxi & Antipaxi
Lefkas
Ithaca
Kefalonia
Zakinthos (Zante)