Lefkas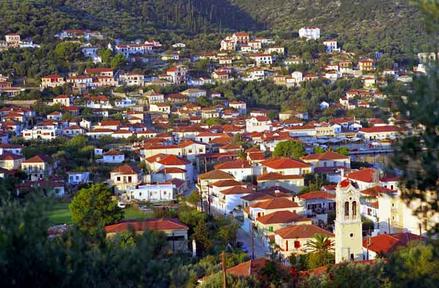 This island was actually a peninsula joined with mainland Greece, until in the 7th century B.C. a channel was dug by the Corinthians who were then occupying the area!
The morphology of the ground is similar to that of Paxi, with the eastern coast rising gently out of the sea and ending up as high mountains dropping vertically into the water at the west.
They consist of white rocks and that is where the island's name is coming from ('Lefkada' meaning white). The highest peak being 1150m above sea level at Mt. Stavrota.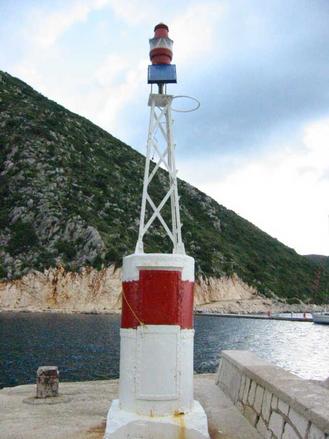 Lush vegetation, waterfalls in the mountains, vineyards, olive grooves, and pretty villages is the characteristic of this island.

Picturesque little bays run along the east coast, while long sandy beaches and a couple of tourist resorts cover the west side.

Porto Katsiki, accessible by boat has a breathtaking scenery with the sheer white cliffs towering above the beautiful sandy beach and the crystal clear blue sea.
The town of Lefkas which is the capital of the island is situated at the north-east end, just opposite of mainland Greece.
It has a nice atmosphere to it and there, you can visit the small archaeological museum, the Folklore and the Phonograph museum, its public library and the Gallery of post-Byzantine art.
Alternatively you can try its numerous cafés, bars and clubs or go for a wonder at the shops.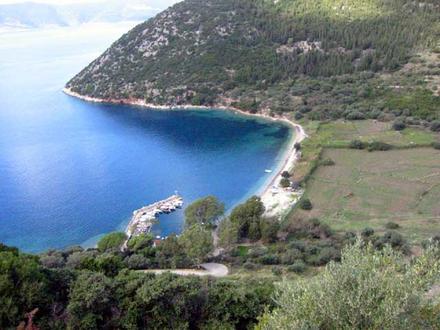 Further south along the coast is Nidri, the village which is the largest tourist resort on the island.
And at the southern tip, the big bay of Vasiliki is famous in the windsurfing community all around Europe for its ideal winds for the sport.
As usual, along the whole length of the coast there are plenty of little villages and bays.
Some smaller islands close to Lefkas
To the east and south-east of Lefkas there are various little islands.
Some of them are inhabited (with anything from 2 to 100 people), like Meganisi (with its famous marine cave where the submarine 'Papanikolis' used to hide during the second world war), and the picturesque islands of Kalamos and Kastos which are definitely worth a visit.
Many more are uninhabited like Atokos, Arkoudi, Pontiki, Drakonera, Provati, etc.
Click below to read more about any of these islands:
Corfu
Paxi & Antipaxi
Lefkas
Ithaca
Kefalonia
Zakinthos (Zante)