A typical day on «Alexandros»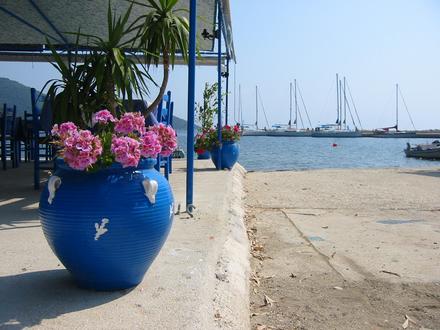 The general plan for your stay is that there is no plan! That is the last thing you want on a holiday!
When you come onboard, everybody will sit around the chart and Thanos will inform you about the area and all the possible places to visit. After discussing everybody's preferences a general itinerary will be drawn.
However our experience has shown that as you go along it may alter slightly, as you will get new ideas along the way!
After all, a yachting holiday is all about freedom and exploration!
A typical day onboard «Alexandros», starts in the marina of a little village where you spent the previous night (or anchored in a remote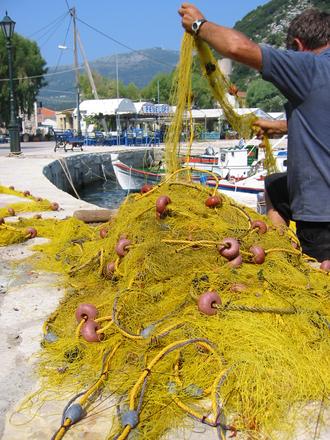 bay if you decided to stay there!). When you feel like getting out of bed you help yourself with breakfast on deck which normally includes freshly baked bread, home-made jam or honey from the mountains of mainland Greece, coffee, tea, milk and cereal, orange juice, and of course fresh fruits and yogurt.
There, you can take your time waking up while watching the village life in front of you and the breathtaking scenery of hills and mountains all around.
Alternatively, you can have breakfast at one of the numerous cafés and tavernas that are always situated around the harbor.
If you feel more active, you can go sightseeing, wonder around the village and the surrounding countryside, or just do some shopping.
Normally, sometime around , and after a short discussion over the chart about where would be nice to go for a swim and where you would like to be for the next night, we set sail.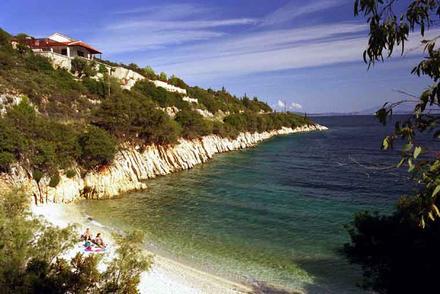 With the gentle northwesterly breeze that normally prevails in the Ionian Sea during the summer months, and which rarely exceeds Force 5, you will have a comfortable sail to a bay of your choice either on the same island or another one.
After we drop anchor, you can stay onboard, go for a bit of swimming and snorkeling, or head for the shore.
It is a heaven for kids as well, as they normally play for hours in the water, explore the sea life, or run around on the beach.
Around 1 o'clock in the afternoon, lunch is served at the cockpit. Although Alicia always says that she doesn't cook anything special, her delicious dishes made with local fresh products have become one of the attractions of our cruises. Many of our guests have even suggested that we should advertise them as 'gourmet cruises'! And of course lunch is accompanied with local wine or beer and fresh fruit as a desert.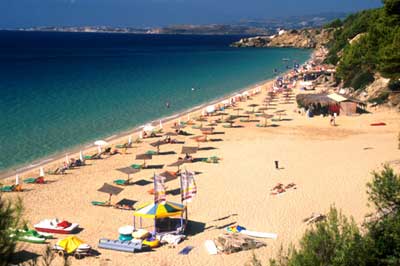 In late afternoon it's a good time to weigh anchor, hoist the sails again and head for a picturesque little village on another island.
We'll be there around 5 o'clock which will give you plenty of time to explore the place and experience the local culture. Later you can head for dinner to one of the tavernas, where you will have the opportunity to taste the Greek cuisine, famous for its delicious plates.
A fascinating selection of local tavernas is available for you to sample and Thanos and Alicia with their good knowledge of the area, will suggest some of the places with the best food.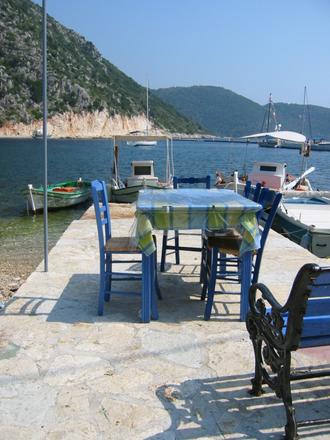 As we said earlier, at the beginning of your holiday you only draw a general itinerary for the duration of your stay.
So, every day some time during the evening, we will discuss the options for the following day. A more detailed plan will then be made about where to go and what to do.
And then you can go for a walk around the place, taste the local wine, then end up back at the yacht for a few drinks with your friends or just head for a bar, socialize, make new friends and even have fun till the sun rises again the next morning!